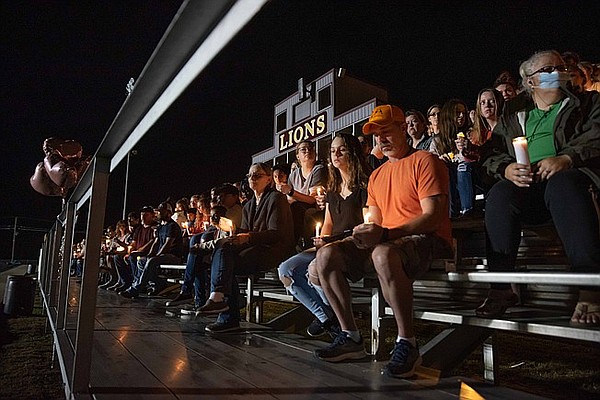 WITH SURVEY | Local schools have plans in place to support students in times of tragedy
When a tragedy occurs involving a student or school staff member, a quick response is required by the school to help the student body deal with the situation.
Two recent tragedies in the past two weeks have caused local school districts to do just that.
Hope High School student Tykendrick Bradford, 16, died in a May 3 shooting. Six days later, 18-year-old Avery High School student Harley Goodwin died in a car accident.
The Hope Public School District and Avery ISD have deployed counselors and other mental health services to students on campus to help them through the grieving and coping process.
—–
DON'T SEE THE SURVEY QUESTION? Read the story at texarkanagazette.com/news/polls
—–
"The death of a student is a difficult and challenging situation that can generate a high level of stress and anxiety," Avery ISD Superintendent Debbie Drew said in a statement after the incident.
Drew said grief counseling and support services were made available to students and staff shortly after Goodwin's death.
HPS Superintendent Dr. Jonathan Crossley said his district has three full-time social workers, each campus has a full-time counselor, and faculty and administration are involved as needed and appropriate.
"They are likely to provide assistance as needed and appropriate throughout the week and beyond," he said in a statement.
While tragic cases requiring schools to provide these services appear to be rare, there is evidence that students experience trauma and need mental health services.
On April 28, the Springtide Research Institute released a mental health review drawing information from more than 3,000 surveys and 80 interviews conducted by middle school, high school, and college students in the spring of 2022. According to their findings, approximately 55% of students who have taken the surveys say they have experienced trauma, while 41% say they have approached an adult at school for help with emotional challenges in the past three months. About half, 49%, say they have spoken to a mental health professional such as a therapist, counselor or psychologist in the past three months.
This recent news and data begs the question: What mental health services are available to local students at surrounding schools in the area?
The Gazette received responses from three local school districts and a college on the matter. Feedback indicates that most school districts deploy at least one certified counselor to each of their campuses to be there for students in the event of a tragedy.
Districts have also established procedures on how to handle these situations.
Texarkana ISD communications director Todd Marshall explained his district's procedures.
"If we have a student or staff member who has experienced a tragedy, we provide psychological support and resources to support the student. In a situation where there may be stress on campus due to an event occurring inside or outside of our school environments, we immediately dispatch an emergency response team to that campus so that students and staff can travel to an identified area and meet with an advisor. .
"We are taking every precaution possible to ensure our students and staff have a safe learning environment, and we are also preparing for any situation where our students may need support."
Pleasant Grove ISD communications director Shelby Akin said if additional resources are needed after an incident, the district uses the Area 8 Service Center and local community resources to provide them.
"Campus administration communicates these available resources to students and parents on campus as needed," she said.
Texarkana College is calling on its Chief of Police, along with its Licensed Professional Counselor, to support students and staff as they mourn the loss of a student or school family member. .
"We had a few situations where we held sessions for students, faculty and staff as they mourned a death or tragedy," said TC Public Relations Manager Suzy Irwin.
———
MENTAL HEALTH RESOURCES
Arkansas
National Alliance on Mental Illness, Arkansas: namiarkansas.org
Stay Positive Arkansas (free crisis counseling services): staypositivearkansas.com
Southwestern Arkansas Counseling and Mental Health Center (Texarkana, sliding scale payment): 870-773-4655
Texas
Community Healthcore 24-hour Crisis Line: 1-800-832-1009
Health and Social Services Commission COVID-19 Mental Health Support Line: 833-986-1919
National Alliance on Mental Illness, Texas: namitexas.org
UT Health Science Center at Tyler Helpline (emphasis on East Texas resources): 903-877-5159
National
Crisis text line: Text HOME to 741741